Family offices typically have a portfolio accounting system and a general ledger (GL). In some cases, the accountants running the GL pull the necessary data out of the portfolio system or use the custodian statements or website.While this does solve the need, having your team do this data entry manually is both inefficient and error-prone. What's worse, usually the resources doing this manual data entry are very skilled accountants. Putting their effort on this very repetitive task is a waste of their knowledge—and, let's be honest, a drain on their morale.
We've worked closely with family offices for over 20 years to help them streamline their operations and implement new ways of running their offices to help eliminate tedious practices, reduce errors, and enable skilled staff to do the jobs they were hired to do. From this close collaboration came our KnowLedger service. KnowLedger moves data from portfolio accounting systems and custodians directly into the GL with a rules-based engine that intelligently "oversees" the data flow to achieve the accountants' goals without requiring them to do manual data editing.
In other words, KnowLedger gets your accountants out of data entry and back into accounting.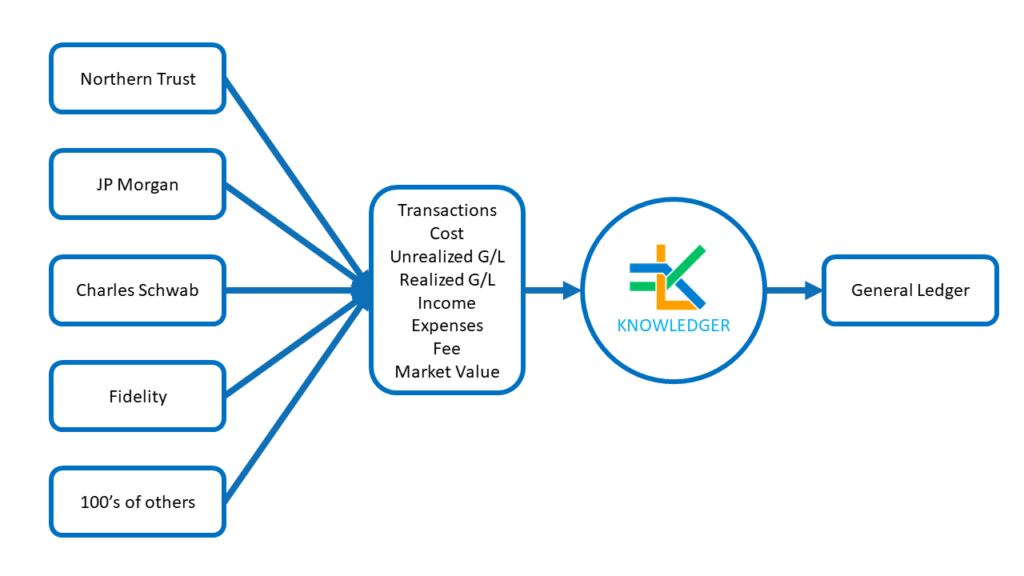 Recently, we started getting requests from family offices to skip the portfolio accounting system altogether, either because they don't have one, or the accounting department runs so separately from the portfolio/investment side of the business they would rather control the data. In these situations, KnowLedger retrieves data directly from the custodians to create the necessary journal entries into the GL.
There are many advantages to this workflow:
Realized & Unrealized gain/loss is sometimes nearly impossible to get correct in the portfolio accounting system. The best that it can do is match the custodian. Taking data directly from the custodian avoids this complication entirely.
The portfolio accounting system can now operate on its own, for its own purpose, not letting the accounting/tax drive their data needs.
The accounting side can now control what entities are consumed from the custodians. Sometimes if there is a lag in data, or data is filtered out, it can require manual entry to compensate.
Speed improves dramatically. By using a direct custodian feed into KnowLedger, the GL can be updated daily.
More detail and comments from the custodian can flow into the GL. Often, putting another system between the custodian and GL results in filtering out of transactional details or comments. However, if the custodian can produce an extract with data, KnowLedger can move that data into your GL without such loss.
The automation provided by a service like KnowLedger offers advantages to information speed, data accuracy and transactional depth which benefits family office accountants by putting richer detail at their fingertips.
"
When a computer does the work, you can get much more detail
", said Ryan Kerry, KnowLedger CEO. "Our first KnowLedger client used to input dividend income as two journal entries each period end. This was a net number of taxes and other fees. Once KnowLedger was running they realized we could input each dividend and we were able to make this change very easy. Then the real impact happened later. We were able to change our process to put in the gross dividend and the tax withholding as separate entries giving the GL much more reporting functionality."
Ryan Kerry, added "Another conflict we've seen arise between portfolio accounting and a GL is the premise of closed books versus open books. Portfolio accounting systems tend to be open book, meaning if a transaction changed months prior (tax withholding, corp. action, or other) in order to make performance measurement correct, the back-dated transaction is posted back to the correct time period. GL's are closed booked systems. Once the period is closed, you can't go back and change the data. The net change will be booked into the next period. With KnowLedger feeding directly into the GL, this difference can be controlled by the accounting team operating the GL."
If your period-end processing is taking a longer time than desired because you are spending too much time collecting data or trying to match the custodian, KnowLedger might be a welcome alternative for you, your team and your office.
To learn more about our direct custodian-to-GL options, please contact us. We would welcome an opportunity to discuss your operational challenges and share how KnowLedger has helped Family Offices like yours jettison the tedious, error-prone drudgery for streamlined, efficient, decision-enabling data flow.